July 12, 2009
If you're wanting to start something new and would like some money to assist you, checkout the AWS Start-up challenge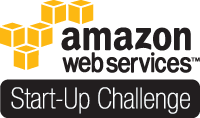 The competition is open to anyone in the United States, the United Kingdom, Germany, and Israel.
The winner will win $50,000 in cash, $50,000 in AWS credits, mentoring sessions from AWS technical experts, and AWS Premium Support Gold for one year.
To enter you will need to:
…tell us about your existing company or your start-up idea by completing the online application by August 26, 2009. The judges will review all applications and choose 5 finalists based on the following criteria: originality and creativity of the idea, likelihood of long-term success and scalability, how well it addresses a need in the marketplace, implementation of payments functionality, quality of presentation, and implementation of AWS infrastructure services and/or other paid services.
If you want more information please head to the information page at http://aws.amazon.com/startupchallenge/